An analytical study of the performance of 20 media outlets over the 3-month period during which the elections were held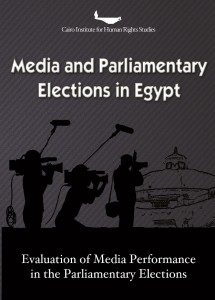 Freedom and independence of the media is a cornerstone of democracy, and as such media reforms should be at the forefront of political reform priorities, particularly in transitional periods. In October 2011, the initial phase of the first legislative elections in Egypt following the January 25 Revolution began. These elections are worthy of study not only for being the first elections after the fall of the Mubarak regime and his National Democratic Party, but also because they were held following a year of political instability and amid convoluted political and legislative developments.
This tumultuous context significantly impacted media coverage of the elections.  Furthermore, media in Egypt suffers under restrictive legislation which places media outlets at constant risk of closure or confiscation of its publications.  Media is also affected by the interests of those who control its funding, which presented particular challenges during coverage of the 2011 elections. Indeed, the elections period tested the professionalism of media workers and their ethical commitments to society. As such, monitoring the performance of the media during elections is an important tool to guarantee democratic, fair elections.
The final report entitled "Media monitoring during the parliamentary elections (2011- 2012) in Egypt" evaluates the coverage of 20 media outlets of the electoral process. This report is issued within the framework of the Cairo Institute for Human Rights Studies' media monitoring project, which was carried out in cooperation with the Independent Coalition for Elections Monitoring from 12 October 2011 – 15 January 2012.
The sample under study includes:                
6 daily newspapers: Ahram, Rose Alyussef, Gomhoreya, Almasry Alyoum, Shorouk news and Tahrir news.
4 weekly news outlets: Akhbar Alyoum newspaper, Rosa Alyussef magazine, Elfagr newspaper, Sawt Al Omma newspaper.
7 televised news channels: Channel 1, Egyptian Space Channel, Nile news, Dream 2, CBC, Alhayat, and ONTV.
3 televised religious channels: Alnas channel, Alrahma, Alkarama.
Monitoring of television channels was carried out between 6:00 p.m. and 2:00 a.m.
Click here to view the report
This post is also available in: العربية