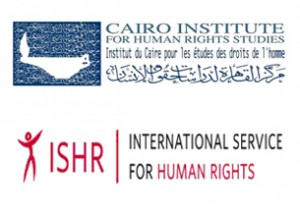 The Cairo Institute for Human Rights Studies, in cooperation with the International Service for Human Rights, is holding the 16th Regional Forum of the Human Rights Movement for two days, Friday and Saturday April 13 and 14 on the role of regional and international mechanisms in the
promotion and protection of human rights in the Arab World. The forum hosts a group of Special Rapporteurs of the United Nations (UN) and the African Commission for Human and People's Rights (ACHPR). Mrs. Margaret Sekaggya, the UN Special Rapporteur on the Situation of Human Rights Defenders, Mr. Maina Kiai, the UN Special Rapporteur on Freedom of Assembly and Association, Ms Reine Alapini-Gansou, the ACHPR Special Rapporteur on Human Rights Defenders in Africa, and Ms. June Ray from the Office of the High Commissioner for Human Rights are all taking part in the meeting.
The forum, which is entitled "Human Rights Defenders In the Middle East and North Africa and Regional and International Human Rights Mechanisms," will incorporate an in-depth discussion of the reflections of the "Arab Spring" on the human rights situation in the region, the role of the United Nations and the African Union in supporting and protecting human rights defenders in the Arab World, as well as the role of the Arab League in defending human rights and its relation to the United Nations and the African Commission in this aspect. The discussion also extends to discuss the challenges that hinder the right to freedom of opinion and expression in the Arab World, and the violations related to the right to peaceful protest and to form associations.
The forum is planned on two days; each will start at 9:00 am and end at 5:00 pm. It includes several Egyptian and Arab human rights defenders, who are planned to attend working sessions with the Special Rapporteurs on human rights defenders to discuss the obstacles they face in their countries, and the human rights challenges in general that followed the "Arab Spring".
This post is also available in: العربية